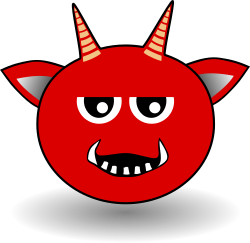 All right, my title is a bit harsh. It's a reaction to my first real attempts to get my head around
twitter
, and it seems to me that twitter is the
Tower of Babel
reborn. It is the definition of
narcissism
. It has created a nonexistent need. Let's all blab into
cyberspace
and see who's paying attention. If I blab more often than you, I get more attention. My blabs don't have to have meaning. They just have to
trend
. Here. Check to see how many people are blabbing about you. Participate by disconnecting yourself from real life and entering a world of 150 characters or less, summarized in short taglines, where you amass
followers
and you choose who to follow, where we endlessly search for the pigeonhole that is us, the quilted blankets of labels that will define us and, in some magic world, make us stand out and exist.
With cyberspace, we have created
alternate realities.
Worlds outside the physical realm, worlds where we build
relationships
and destroy relationships, where we hold converse, attend events, make declarations, go shopping, and play games, interacting with other
cyber entities
and creating other versions of ourselves. My brain actually feels different after spending time online.
The thing is, it now appears that, to be taken seriously as a writer, you need a
digital platform
, a
digital presence
, that includes, among other things, twitter. So, I signed up. I followed people. I
tweeted
a few things. I'm drawing the line at setting it up so the tweets pop up on my phone. I just don't want to sacrifice too many more moments of precious real-world time to this time-hungry digital world that demands I stand on the hilltop making announcements and waving my flag and gathering minions. It feels like a
manufactured necessity
. I don't want to join this transition from the physical realm to the digital world, but I often feel I have no choice.
Even writing this
blog
seems to me to be a concession. I started it as a means to include out-of-town participants in the Writers On-the-air Workshop many years ago. But I continued it because it was one way to build my required digital platform. A blog and a
website
. Small concessions to this new, demanding digital reality.
Then I learned that, for my blog to gather followers, I should be
posting on a regular schedule
. So, I made myself a goal of posting once a week. Even that, I was told, wasn't frequent enough. I learned about
metatags
and
labels
and other ways to make the
search engine gods
of the digital world pay more attention to me. I started checking my
stats
more often, the way you check your hair in the mirror too often in the physical realm. I learned I should be reading other people's blogs. Lots of other people's blogs. Reading them and commenting on them. So I did. Soon, I discovered
blog contests,
blog hops
,
blog giveaways
and other strategies for
driving traffic to my blog
. And I participated in a couple of those. I joined twitter, and, hoping to save myself some time, I set it up to
tweet
onto my
facebook
. Then I read that
twitter etiquette
frowned upon that, that I should, instead, post separately on these two digital realms.
Then I came up for air. I didn't like the way this digital world was feeding my
innate human narcissism
. How many people like me? How many people follow me? How often does my name come up when I
Google myself
? I'm finding it's much harder to cure myself of that narcissism than it was to get involved. It is truly a slippery slope. My entry into twitter just seems to be the final step on my descent into a narcissistic hell of my own making, with the help of the human community, the marketing realm and the commercial world in general.
Thus endeth what may well qualify as my most hypocritical post yet. I wonder how many hits I'll get?